Words and Dreams
Words and Dreams will be on display in the Sara D. November Gallery from October 21 through November 18, 2021.The exhibit will show the work of painter, Jennifer Anne Moses, who describes herself as "a painter in the Outsider tradition, where I fuse Hebrew prayer with a distinctly Southern sensibility, born of the many years I lived in Baton Rouge, Louisiana." Both a painter and a writer, Moses, is scheduled to discuss her recent book, a collection of short stories entitled, The Man Who Loved His Wife, during the Fife-Davis Family Annual Jewish Book Fair on Tuesday, November 16 at 11am. Click below to register for the free virtual book talk with Jennifer.
Register Here
Our Mission
The Sara D. November Gallery is committed to expanding and enriching cultural life in Richmond by presenting the finest Jewish artists and Judaic artwork, encouraging the preservation of Jewish culture and heritage and nurturing new creativity in the arts
Sponsored by Hirschler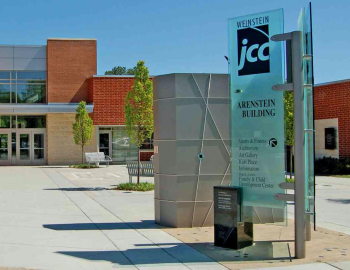 Gallery Hours
Monday–Thursday, 9:00 a.m. – 9:00 p.m. Friday, 9:00 a.m. – 6:00 p.m.
Sunday, 9:00 a.m. – 8:00 p.m.